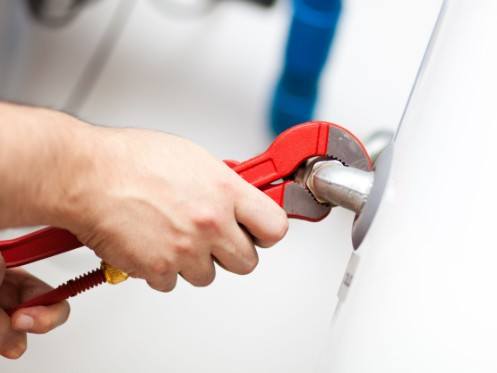 A cracked drain pipe is one of the most disastrous plumbing problems. If you don't want to deal with smelly, messy leaks, it's essential to get your cracked drain pipe repaired as soon as possible. For best results, you'll need to select experienced professionals who have the tools and know-how to handle this project. What can you expect when you call our team out for a cracked drain pipe? The typical drain pipe repair process follows these steps.
Locate and Access the Cracked Pipe
The first step to repairing a cracked drain pipe is simply assessing the situation and seeing how bad the crack is. Depending on the location of your crack, this can be an easy task or a massive project. You can often find the general location of the crack by looking for the source of leaks, mold, and bad smells. Your plumbers can also use cameras and other technology to pinpoint where the crack is. Actually accessing it can take some time. If your cracked pipe is under a sink or in a crawlspace, locating it is fairly straightforward. However, if it's buried underground or inside a wall, accessing it can be trickier. In some cases, your plumbers may need to dig up part of your lawn or cut open a section of your wall.
Though it's certainly a bit of a hassle to excavate your lawn or open your wall, this step is very important. It allows your plumber to reach the crack in the pipe and work on it directly. The only time you can skip this step for cracked pipes in tricky locations is if you select a pipe relining repair method. However, this technique doesn't work for all cracked pipes.
Discuss Your Options
Once your plumber knows where the crack is and how big it is, they can start working with you to find the best repair for your situation. When a drain line cracks, most of the drain pipe might still be in good condition. Therefore, you don't necessarily need to replace the whole line. Instead, your plumber might suggest an option like sealing a leak with a patch on the outside or inserting a liner into your drain to seal the crack from the inside. These techniques can be more affordable than replacing the whole drain line. Not only do they require less time to complete, but they can also be more convenient. Pipe relining options allow your plumber to work remotely, so they don't have to dig up your yard or break open your wall.
These types of repairs work well if your drain system is in good condition and your priority is speed and affordability. However, some homeowners prefer to entirely replace the cracked section of the drain line. This is a slightly more time-consuming project. However, it's extremely reliable. You don't have to worry about the pipe leaking anymore because you'll have a brand-new drain line in place. Replacing the cracked section is often a good choice if your pipes are very old and prone to cracking or clogging.
Your plumber can discuss all these options with you and help you decide on the right choice for your situation. Once you pick a repair method for your cracked drain pipe, your plumber will move on to the next steps in the repair process.
What to Expect When Patching a Crack
If your cracked pipe is a good candidate for a simple patch, the process is very fast and straightforward. Your plumber will turn off the water and make sure the drain pipe is fully dry. Then, they'll clean the pipe thoroughly and prepare it for the patch. Depending on the type of sealant they use, your plumber might rough the area around the pipe so that the patch can adhere more tightly.
Most cracks can be patched with plumbing epoxy. This is a type of soft, slightly sticky material that your plumber will press into the crack. Some cracks can also be patched with a silicone or fiberglass resin material that your plumber will wrap around the crack and fix into place. If you have an older pipe material like cast iron, your plumber might use another material such as cast iron repair paste. Whatever material they pick, they'll make sure to apply an even coating that prevents any pipe leaks.
What to Expect When Lining a Cracked Pipe
If you choose pipe relining, the process of repairing your cracked drain will be a bit more complex. This is usually a good option if your main drain line is cracked, and it's not necessarily common for smaller drain lines like a cracked sink drain. When it's time to reline your pipes, your plumber will locate an entry point and an exit point for your pipes. Then they'll use ropes and drain cameras to guide an epoxy-soaked pipe liner into your pipe.
Once the liner is in position inside the pipe, your plumbers will inflate an air-filled bladder to press the liner tightly against the interior walls of the drain pipe. They'll let the resin cure and then deflate the bladder and pull it out. You'll end up with a watertight coating that blocks any cracks and seals your drain line.
What to Expect When Replacing a Cracked Pipe
If you choose to replace the entire pipe, the project will start with your plumber removing your old pipe. After turning off your water and emptying the pipe, they'll cut away the damaged section and dispose of it. Then, your plumber will measure and cut a new length of pipe to replace the damaged section.
To attach the new length of pipe, your plumber will typically use a coupling and some pipe cement to seal the new length of pipe in place. For best results, they'll bevel the pipe ends before connecting and rotate the pipe into place to spread the cement thoroughly. After allowing the cement to cure, they'll then test the new connection to make sure it is fully sealed and waterproofed.
Finish the Project
Once your cracks are repaired, the hard part is over. Your plumber will just need to fill in any holes in your yard and pick up any debris left from the job. In most cases, you can start using your drain line again very soon after the repair. Some types of pipe lining are cured with heat, so you can start using your drains again the second the plumber cures the lining. Other types of epoxy and sealants may need between four to 24 hours to fully cure. Your plumber will let you know how long it will be before you can use the drain again.
When you choose Wyman Plumbing & Mechanical, repairing a cracked drain pipe doesn't have to be a huge inconvenience. Our team of professionals can handle this task with ease. We'll find a time that suits your budget, manage all the prep work for you, and clean up after we fix the issue. In addition to drain pipe repairs, we also help Phoenix residents with a variety of other plumbing repairs, installations, and maintenance tasks. To learn more about our services, contact Wyman Plumbing & Mechanical today.